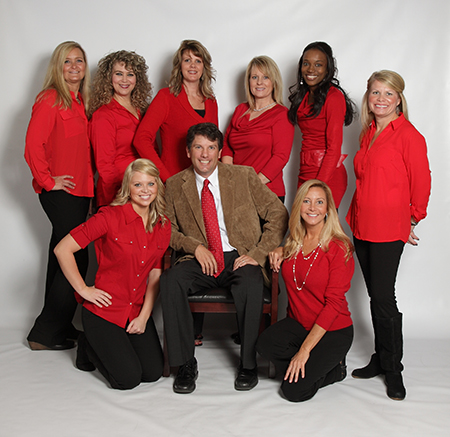 Treatment Benefits
Our goal is to develop a smile that is not only beautiful and natural looking, but most importantly, establishes proper health and function.
We strive, when designing our patients' smiles, to focus not only on an ideal bite relationship and beauty, but also the soft-tissue profile and smile aesthetics.
Your level of care is continually maintained, because, as professionals, we remain perpetual students and strive to always provide our patients with the latest up-to-date technologies and advancements in orthodontics.
Your appointments will always begin with our appreciation of your valuable time, and we strive to make sure our service is always prompt and focused on you.
You may not notice all of our skills, but we are confident that your experience with our office will be like no other and you can't help noticing our caring, friendly service, and attention to detail.
Office Benefits
We appreciate your desire to seek the best possible orthodontic care for you or your child. We pride ourselves on our honesty and patient respect, and assure you the best possible treatment. Here are a few reasons to choose our office and Dr. Crowder for your orthodontic needs:
Is the doctor an orthodontic specialist?
Dr. Crowder has completed an additional three-year residency beyond the four years of attending dental school. He is an orthodontic specialist registered as a member of the American Association of Orthodontists and limits his practice specifically to orthodontics.
Do you explain all options of treatment required to treat a particular case?
Dr. Crowder is always interested in presenting all options of treatment so you can make the most informed choice.
Is treatment tailored to each patient's individual needs?
Care and consideration is taken by Dr. Crowder and our team to treat each patient as an individual, not a "cookie cutter" treatment approach where every patient receives the same treatment.
Do you speak with the parents at each appointment?
Dr. Crowder makes a conscious effort at every appointment to discuss current treatment and if it is progressing according to schedule. He is committed to keeping you informed and he will always make time to answer your questions.
Do you use brackets that have previously been used on another patient?
Although a common and legal practice, we never recycle bands or brackets. Braces are precision devices, which are manufactured and intended for single use only.
Do you get your patients in and out of braces during the estimated treatment time?
The most frequently asked question in any orthodontic practice is, "When am I getting my braces off?" We have a very high success rate of completing treatment during the estimated treatment time. Dr. Crowder pays particular attention to dental age and does not start a child too early. Our treatment mechanics, self-ligating brackets, precise bracket placement, and efficient systems to monitor treatment progress all combine to complete treatment during the estimated time with the best possible final results.
Does the doctor place all of the braces himself?
This is the single most important aspect of treatment. The placement of the braces is a technically detailed procedure. When done properly, the final orthodontic result is achieved easier and faster. Assistants do not have the training or license to position the braces on the teeth; therefore Dr. Crowder does position all brackets himself.
How often are radiographs taken?
During treatment, there are changes that may occur and go unnoticed without a radiograph. A panorex is a detailed X-ray that is taken to visualize these changes. At our practice, we routinely take these pictures every eight to 12 months to check for signs of root resorption, monitor root positioning, and evaluate the supporting bone around the teeth.
How much is the treatment fee?
Orthodontic fees and philosophies may vary widely among offices, and it is important for you to be comfortable with both. It is vital that you look beyond fees and be satisfied with the quality of care you will receive. Many times a treatment fee is quoted at an orthodontic office for the treatment only, and may not include records or retainers. This gives an incorrect perception of your fee. Beware of additional fees that may be charged for time over and above the estimated treatment period. We feel very strongly about honesty with our patients.
We want you to know up front what your entire fee includes so there are no surprises at the end. Our fee is all-inclusive which consists of records, appliances for the estimated treatment time, retainers, and the retention period.
There is truly a difference in orthodontics!
Financial Benefits
If left untreated, many orthodontic problems can create far more costly problems in the future. The cost is quite modest considering the physical and psychological benefits of orthodontic care can last a lifetime.
With our creative financing, anyone can feel comfortable wearing braces. We strive hard to eliminate the financial barriers to orthodontic treatment, because we believe everyone deserves a healthy, beautiful smile.
We offer a complimentary initial consultation to address your needs and concerns.
Our orthodontic fee includes exam and diagnostic records, all appliances, treatment visits, the first set of retainers, and a year of follow-up after appliances have been removed.
Although fees vary according to the complexity and time involved with each individual's case, a personalized payment plan can be arranged for your orthodontic care that fits within your family's budget.
Professional courtesies are offered to patients who pay their orthodontic fee in full at the beginning of treatment.
We also provide a convenient no initial down payment option, with lower monthly payments through CareCredit. CareCredit makes it easy to say YES to treatment with low monthly payments, no money down, and no payment for six weeks.
For your convenience, we accept MasterCard and Visa.
We accept and file insurance assignment to make sure your benefits are maximized.
Pre-authorization of insurance benefits are determined prior to your initial visit.
If your employer offers a flexible spending plan, we can help plan your orthodontic expenses by utilizing these pretax dollars.
For your convenience, we offer automatic bank draft and electronic transfers to simplify monthly fees through OrthoBanc. This saves you time and eliminates the need for printing, mailing and cost incurred from postage.
If you should have any questions regarding financial options, please do not hesitate to contact our financial coordinator at Crowder Orthodontics 334-792-5124.
Practice Philosophy
The quality of treatment is directly affected by the relationship of each system and service we provide for our patients.
Up-To-Date Sterilization Systems
When you visit our office, you can relax knowing that the safety of our patients is a primary concern. Our sterilization techniques and barrier controls are designed to meet and exceed all guidelines established by OSHA and the CDC. Each instrument is autoclave sterilized using the M-11 between every patient. Single-use/disposable items are used whenever possible and discarded after each use and a biological monitoring service verifies our sterilization techniques. You can relax and rest assured that everything is clean/sterile in our office.
Office Management Systems
Electronic Reminders: We have an automated computer software program that calls, texts, and sends emails to confirm with you before your orthodontic appointment. We realize that families are very busy and a little reminder is just another service we provide for our patients.
On-Hold: We are committed to never leaving our patients on hold. However in the event you are, we have installed an informative message-on-hold system to educate our patients about our orthodontic care.
OrthoSesame: We are committed to keeping you connected to our practice. OrthoSesame is a web-based, secure system that gives you the ability to check appointment dates and times, account balances and even gives you the option to make your payments online. Also through our OrthoSesame system, you will receive emails informing you and your family of important events, orthodontic news, and appointment times.
Appointment Slip: At the time of checkout, each patient will receive an appointment slip as a reminder for his or her next appointment and school excuse.
Automatic Debit: For your convenience, we offer automatic bank draft to simplify monthly fees. This saves you time and eliminates the need for printing, mailing and cost incurred from postage. You will also be able to obtain a statement at www.orthobanc.com by simply accessing your account online.
Patient Financing: To make financing more affordable for our patients we offer CareCredit Patient Financing. CareCredit makes it possible by providing low monthly payments, an easy application process, and no hidden fees to finance your orthodontic treatment.
Electronic Claims: Through the OrthoTrac practice management system, we are often able to file your claims online. This is a major benefit to our patients, because it allows us to handle your insurance and avoids unnecessary time you would spend mailing forms and consulting with insurance companies.
Patient Sign-in: We do not use a sign in sheet! Simply click on your name on our user-friendly iPad and a member of our team, very shortly after you arrive, will greet you and escort you back in our treatment area to be seated. We know your time is valuable and we pride ourselves on never making you wait for your appointment.
We Are Caring
Follow-up phone calls: We routinely call or text our patients after key appointments just to ensure you or your child is doing well and let you know that we do truly care about your experience with our office.
Commitment to Communication: We make a conscious effort at every appointment to briefly update you about treatment and if it is progressing according to schedule. We are committed to keeping you informed and we will always make time to answer your questions.
Our Office Is Fun!
T-Shirts: Each patient receives a t-shirt at the braces appointment. Patients will receive additional HubReward Points for wearing their t-shirt to each appointment.
Contests: Dr. Crowder and our team are dedicated to delivering the highest level of orthodontics, but at the same time, making sure your orthodontic experience is fun and rewarding. Our office regularly holds contests throughout the year. Our prizes include movie passes, gift certificates, family event tickets, iPods, and toys.
Video Game Bar: We have a video game bar loaded with video games to help our patients and their siblings pass the time. Current and popular magazines are available for our parents' enjoyment. In addition, we have hand held gaming units in the clinical area.
Retainers: Often Invisible retainers are use once braces are removed, but sometimes more traditional retainers are indicted. An array of colors and styles are available for you to choose from when your braces are removed.
Team: We take great pride in being friendly to our patients and we guarantee your experience with our team will truly be a positive one.
There is truly a difference when it comes to orthodontic treatment. Dr. Crowder is totally committed to providing the finest in orthodontic care. Because of our advance systems and superior service, we are confident you will experience this difference. We look forward to meeting you and discussing the benefits of creating a beautiful healthy smile just for you.